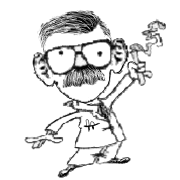 Welcome to my current Journal site.  (illo by son Chon)
Examples of my work (hah hah)  and other info can be found by using the banner tabs above.
The most recent posts they're just over on the right side.   
Some have asked, "Why bother?" Good question.  This website is just a little museum for parts of my life, things I've enjoyed doing, things that can be easily shared – it's part of my story.
Drawing and writing help clarify the synaptic snarl of my visual and word thoughts.  Our stories are our footprints and sometimes our lessons.  And at last, the Internet is our big campfire in the clouds and this is my talking stick.  
Thanks for stopping by.
NOTE Feb, 2022.  I have sadly disabled all comments because of abuse.  Thanks to my son for repair and restoration.