River Cruise, Summary It was a very good trip through central Europe to be reacquainted with where a lot of our culture originated.  Netherlands, Germany, Austria and Hungary (and most of other parts of Europe) have a much longer and more complex history than the USA.  There's a lot of art and architecture left, preserved and restored to give an inkling of what our species was doing there for the last 3000 years.  The pace and gracious service of river cruise travel are well suited for older travelers.  The food and wine were especially pleasant.  Still, I'm troubled.
Travelling on a boat. This was our first river cruise.  Geezer friends had reported great experiences and so we were anxious to see if touring without the almost daily suitcase rituals of land tours was worth the larger costs.  No one mentioned low water levels. More in a minute… Skip ahead if you know what a river cruise is like.
A river cruise liner/ship is a long narrow floating hotel on its side with a big windowed dining area, a cocktail lounge a sun deck and miscellaneous common areas for activities. Our Uniworld River Princes was very (3.5 star) nice in all categories including our "cozy" rooms.  Unexpected was the level of service. With about 1 staff per 3 passengers (it felt the other way around) we were fully pampered. Dining was elegant with each meal consisting of a very wide selection of delicious and even healthy foods.  Wine and beer and grown-up drinks were refilled continuously without any extra charges. Three meals a day, some four-courses (that you are forced to eat) added 3 lbs in 2 weeks. Everyday had a selection of tours to local towns, farms or sights and a variety of effort levels from "gentle" walking to 20K bike excursions. All the time we slowly made our way through scenic valleys of Riesling vineyards, great castles, abbeys and cathedrals and Bavarian forests.  
Where's the Pictures? Your much awaited short video slide show is posted at:   https://www.youtube.com/watch?v=lo6iN9zNXS4  (3 minutes)
Warmer climates produced lower Danube river levels and our boat was unable to sail past Passau, Germany.  Just 5 centimeters more water…  So we packed up and bused to Vienna, Austria for two days and then Budapest, Hungary for a day. Not too bad, but we were already so spoiled – we were disappointed.
What I/we learned.  For us a big part of travel is the folks we meet from around the world.  Our tours are usually populated mostly by English speaking retired folks from Australia, New Zealand, the UK, Canada, etc.  We had a lot of interesting discussions and much laughter. Largely the view of our President was an incompetent, immoral, dangerous man.  We had to wear bags on our heads. Mostly we moved on to other topics.
Alert, personal opinions follow.  (Actually it's all personal and most of you know where I stand and if you're still reading, thanks.)  I remember moving to NC and being surprised at the frequent mention of the War of Northern Aggression.  On our trip through Germany we heard frequent mention of the 30-years War (1618-1648.) Huh? 
Maybe it was just the selection of tour stops, but the two images most memorable to me are the total destruction from WW II (now rebuilt at great cost to the citizens of both sides) and the vast wealth of the church, also born by the citizens.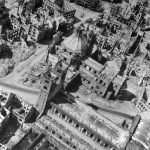 Imagine. If half of that money had been spent on their welfare and education, what a different world we would enjoy.
It's no wonder we have revolutions…
Amsterdam, Germany and Austria and Hungary too (to a lesser extent) are well organized (they love their rules,) clean and doing very well on their respective roads to sustainable energy. They give their citizens better benefits and pay higher taxes, if you ignore our costs of our private health insurance.
Didn't see many US cars, but good old McD's and Starbucks were everywhere. 
Our world-wide rep is slipping…