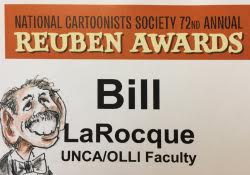 It was an easy drive up to Philadelphia for the 72nd Reuben Awards Weekend of the National Cartoonists Society, NCS — sort of the academy awards for graphical humor. This was my 19th year — as much a fan as a participant — hanging out with heroes and friends who mostly create the newspaper comic pages, editorial cartoons, Mad Magazine and the New Yorker.  
This year my son, Chon, came along for the first time with his friend Lora.  SAM has been coming for 8 years, surviving the daily cocktail parties, bar room gatherings, dinners, afternoon seminars, and the big dress-up awards dinner. Lots of jokes and thank you speeches and a few tears. Some drew at the nearby Children's Hospital of Philadelphia and others participated in a public event at the in-town Library (book signings, caricature, answering questions and cartooning.)  SAM's daughter and family joined us as well. A very nice weekend for the family.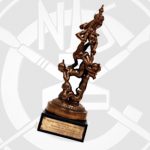 The NCS and the traditional cartooning profession and artists are rapidly changing with the loss of a paper-based market.  Folks still love cartoons, but we now obtain our information and entertainment from the Internet, mostly for free. As the market has changed so has the NCS and this event, not in happy directions, IMO.  The founding masters are essentially all gone.  Some of the greats of the past 50 years are still around and a few attend, but most do not.  There doesn't seem to be a steam of new younger cartoonists joining because the traditional newspaper and magazine markets are drying up.  Happy to finally see more Internet cartoonists and caricaturists being admitted, but it's just not like Europe where cartoon artists are more valued.  Maybe the ComicCons have just usurped the energy and the changed the meaning of dressing up.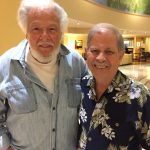 Things change, th
ey come and go.  Happy to have been part of a wonderful parade and to have met some many titanic talents like Nick Meglin (L) and Arnold Roth (R)
(sad note, dear Nick died suddenly just after the event)
Hero Mike 
Peters (L) who is such a happy spirit and Tom Richmond (R, with the lovely Anna) who has taught me so much.
Next year in Huntington Beach, CA — something different?