This is a recently recovered post.  One of my most memorable life events.  Happy I was able to recover from my trashed Journal, a great celebration and touched with history of the disastrous hurricane Katrina that hit New Orleans and the 9th ward.  Thanks to the NCS & Habitat for arranging our day.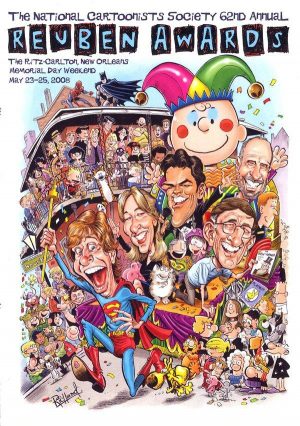 In N'awlins for the 62nd Reubens a day early.  About 120 of us had signed up for a day as "Voluntourists" as the Habitat folks called us, to lend a hand with some of their projects in the post-Katrina, St. Bernard neighborhood.  Two buses were waiting for us at 7am at our hotel on Canal street for the 35 minute drive past endless abandoned single family homes and gutted strip malls.  Camp Hope (Habitat HQ) is where organizations from all over the world (beyond FEMA) come and are briefed and assigned to their 50 or so projects. NCSers: Jeff Bacon, Ron and Max Evry, Ed Black, Jeff and Melinda Keane,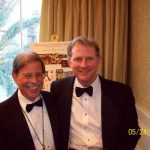 Mike Peters, Hillary Price, Tom and Anna Richmond, Brian Walker, Mike Mikula and many many more joined in this day to shingle and put up siding.  Hammers, nails, and one-liners – being a part of something larger – cartoonists working cooperatively.  An unforgettable day.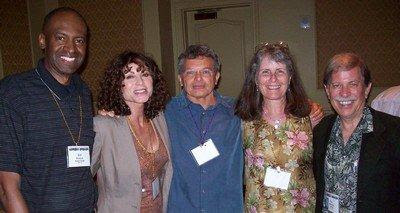 Five of us worked as a "siding unit" and did so well we were dubbed the "Alpha" Team.  Later, at the hotel, after showers we reunited at the opening reception. Here are (left to right) Don Peoples, Elaine Bernside, Bill Schorr, Aileen Heimlich and moi.   We completed the roof and finished about 3/4ths of the siding.



The story here is the quiet stream of volunteers that are coming to help rebuild this unique city.  This is a truly American response. We all were depressed by the devastated neighborhoods, seeing the doors, quickly painted with "X"s with grim #s to count the dead, and the likelihood that it will happen again.  Still, some residents are returning and rebuilding.

What was a major surprise, returning to the hotel we filed off our bus through a gauntlet of applause and thanks from hotel staff and NCSers.   It wasn't needed. We all felt very thankful already. This experience, and the Habitat organization will not be forgotten.

For more great coverage of this event see Tom Richmond's posting (link here.)  BTW, Tom won the Advertising and Illustration category award this year.  Steve Silver, another NCNer, won for TV Animation.  Bill Schorr (one of the Alpha team) won for editorial 
cartoons!  One of my great heroes and pal, Richard Thompson also attended and we had a good talk about the NCS and cartooning art.  Folks were just beginning to appreciate his genius.
10 years later, still a very warm feeling…